Published: 09/03/2022
By Davina Chater
Having wrapped up another successful week at the office and to celebrate several recent birthdays within the team, Friday evening saw the team head out to try the delights of one of Chiswick's newer bars, Betty Chiswick.
The wallpaper-factory-turned-bar offers a niche alternative to the many popular, conventional drinkeries that line the High Road, with the dimmed lighting, comfortable seating and the PYO (pour your own) system provoking a 'mi casa, su casa' air in which you immediately begin to unwind – even before your first glass!
The décor is quite fitting of the place's history and identity. Touches of industrial features such as exposed steelwork and concrete flooring are met with plush velvet furnishings and chandeliers that give it a swanky finish.
You're still thinking about it, aren't you?
Okay - let's address the big elephant, the PYO wine. An array of vinos that cater for the palettes of all, are temptingly lined within an adult-friendly vending machine; once you've topped up your wine card at the bar, you can grab a glass, insert the card into the vending machine and pick your poison (and size). Each bottle has its own tube that, upon selection, dispenses your ordered amount of wine into your glass via a thin tap – it's very easy to lose yourself in trying each one! There are three different measurements to choose from: a taster of 25ml, a small glass of 125ml and a larger glass of 175ml, the prices for which vary depending on the wine. We had huge fun sniffing aromas and swilling the different flavours, of which the most popular within our group was the Argentinian Malbec.
Wines also range in price and be aware that they're not in price order. Take note of the factsheet above each bottle describing taste and origin, so that you select one that will suit your tastebuds.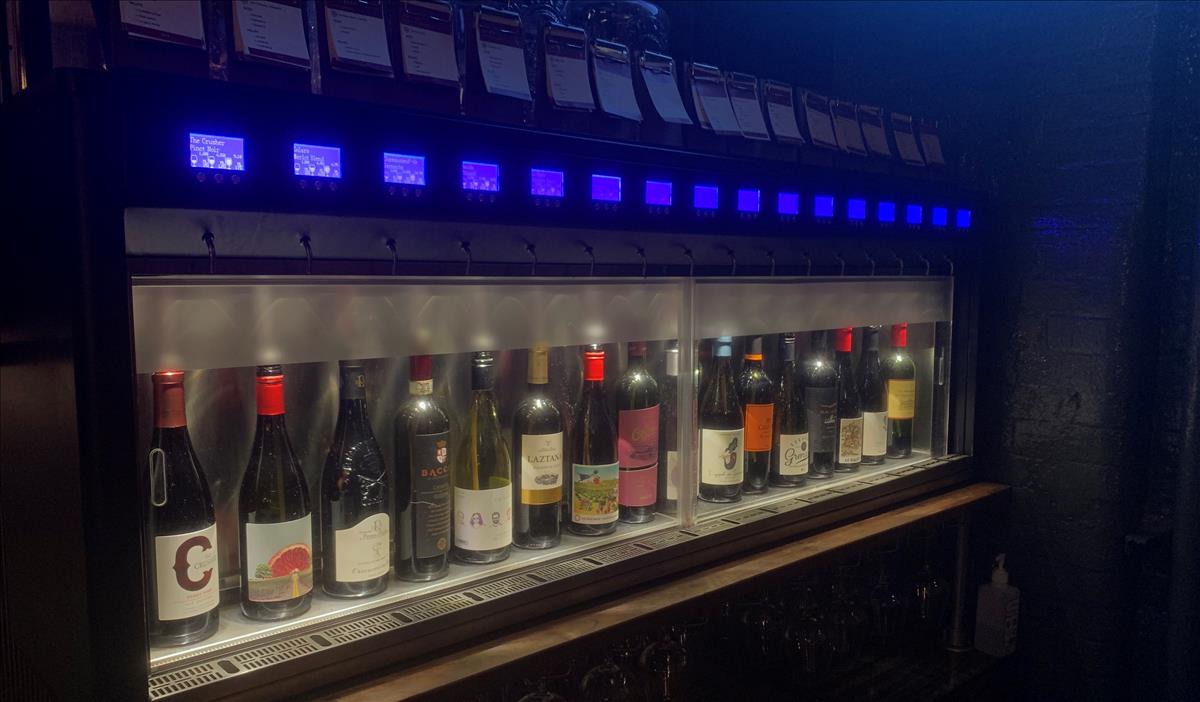 As is always the case with our team, a few glasses of wine calls for food – to eat is not to cheat! The food menu, much like the selection of wines, caters for all tastes, whether you're after a conventional, three-course meal, or "sharing small plates", very appropriate for groups like ours. Some of our favourites were the Potato Mille-Feuille, covered with a thick layer of parmesan and a generous dollop of truffle mayo, and the punchy prawn Gyozas. But the star of the show had to be the Oxtail Mac & Cheese – all scepticism was quashed with the first forkful!
In unison, the team agreed that we would definitely return for some more evening celebrations, and perhaps to watch a blockbuster sporting event on the big screen.